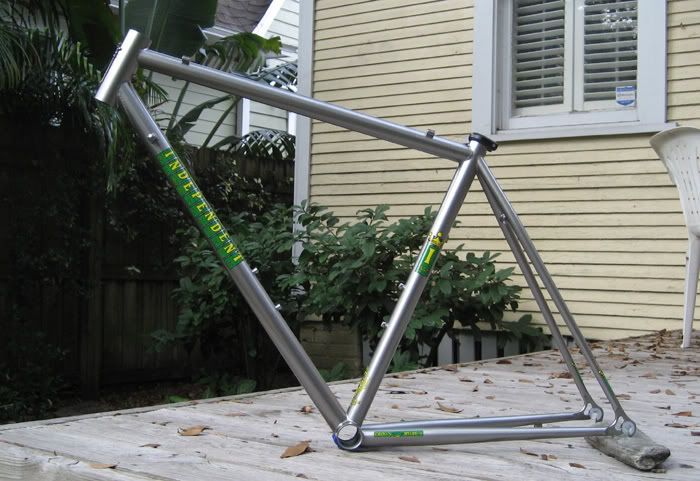 ...all dressed up so it even looks like ti. IF's
platinum
is about as close as you can get to the gray metal. Thank you Lloyd and crew for another fine job.
My
Crown Jewel
had seen 3 years, 15-20K miles and 3 summers of my profuse sweating conspiring to turn it into a rusting hulk. The paint was long gone from the dropouts and cable stops and there was a 2 year-old dent in the top tube that was rusting and ready to crack at any time. That dent was a result of Lauren leaning her bike against mine at a bakery stop in the hills around Clermont, knocking it down and right into the edge of a brick patio. With a fresh coat of paint, a new top tube and a shiny new parts kit, she'll be good as new. I'll get her built up over the Christmas holiday. Between work, holiday obligations and getting through my first training block of the season, time is at a premium.
I've been having lots of fun commuting and riding around town on my semi-slick adorned
Deluxe
, but big gear work starts with the new year and that 44 tooth big ring isn't gonna cut it.